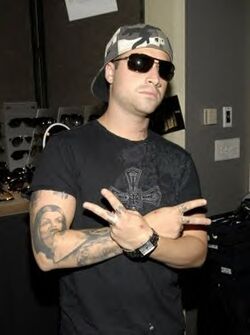 Jonathan Lewis Seward (born November 18, 1984), better known by his stage name Johnny Christ, is the bassist of the band Avenged Sevenfold. Johnny Christ was the fourth bassist to join Avenged Sevenfold in 2002, replacing former members Matt Wendt, Dameon Ash, and Justin Sane. He grew up in Huntington Beach, California.
Early Life
Edit
Christ attended Marina High School in Huntington Beach, California. He proceeded through high school and eventually formally met M. Shadows, Zacky Vengeance, Synyster Gates, and The Rev. He is also friends with Zacky Vengeance's younger brother Matt Baker, formerly from the band The Dear & Departed.
Avenged Sevenfold
Edit
Johnny initially took a few weeks off from high school during his senior year to fill in for Avenged Sevenfold's previous bassist, Dameon Ash, during one of their tours. These few weeks would become permanent as Johnny dropped out of high school to become the band's current bassist. When the band was practicing in M. Shadows's parent's garage, Johnny would walk down the street and tell them that their bassist was inadequate and that they should let him play with them instead. His two biggest influences are Cliff Burton (now deceased bassist for Metallica) and Duff McKagan (the bassist from Velvet Revolver and formerly Guns N Roses). His playing style varies by song. He primarily uses a pick. Johnny first recorded on their second album Waking the Fallen. He used to write only Johnny on his autographs until Zacky came up with the name 'Johnny Christ', and in All Excess he said, "That sounds... really ballsy. Everyone's gonna hate that, so... I should definitely go with that!" He resides in Huntington Beach, Orange County.
Equipment
Edit
Ernie Ball Musicman Stingray Custom Black W/ Steel Pickguard
Ernie Ball Musicman Stingray W/ Custom "Mr.Death" Graphic
Ernie Ball Musicman Stingray Custom Grey Burst W/ Matching Head Stock
Ernie Ball Musicman Sterling (2H) Bass
Ernie Ball Musicman 30th Anniversary Stingray
Seymour Duncan Pickups
Gallien Krueger 412 Neo cab
Gallien Krueger 410RBH Cabs x2
Gallien Krueger 2001 RB Head x2
Ernie Ball 2831 Power Slinky Bass Strings
Schecter Johnny Christ Signature Bass
Also Seen In Recording
Edit
Visual Sound H20 Chorus & Echo
Boss GEB-7 Bass Equalizer
Tech 21 SansAmp RBI Bass Driver DI
Ampeg SVT CL Head
Dunlop CryBaby Bass WAH
Ernie Ball Musicman Stingray 5 Red w/ White Pick Guard
Line6 Bass Pod
Ibanez GSR 205 W/ Gold Inlays
Old Setup
Edit
Ernie Ball Musicman Sterling Bass Black/Black
Ampeg SVT 8x10 Cab
Gallien Krueger 1001 RB Head
Ernie Ball 2831 Power Slinky Bass Strings